Variety reports that Disney has plans for a sequel to 2019's Aladdin remake. John Gatins and Andrea Berloff will write the script, with producers Dan Lin and Jonathan Eirich returning. It isn't known whether Guy Ritchie will return as director. Once a script has been completed, they hope to bring Naomi Scott, Mena Massoud, and Will Smith back as Jasmine, Aladdin, and the Genie, respectively. The film is reportedly in early development, but after six months spent mapping out the direction of the film, production may start soon. This remake-sequel will be another theatrical release, rather than going straight to Disney+, and is reportedly not based on either of the animated direct-to-video Aladdin sequels.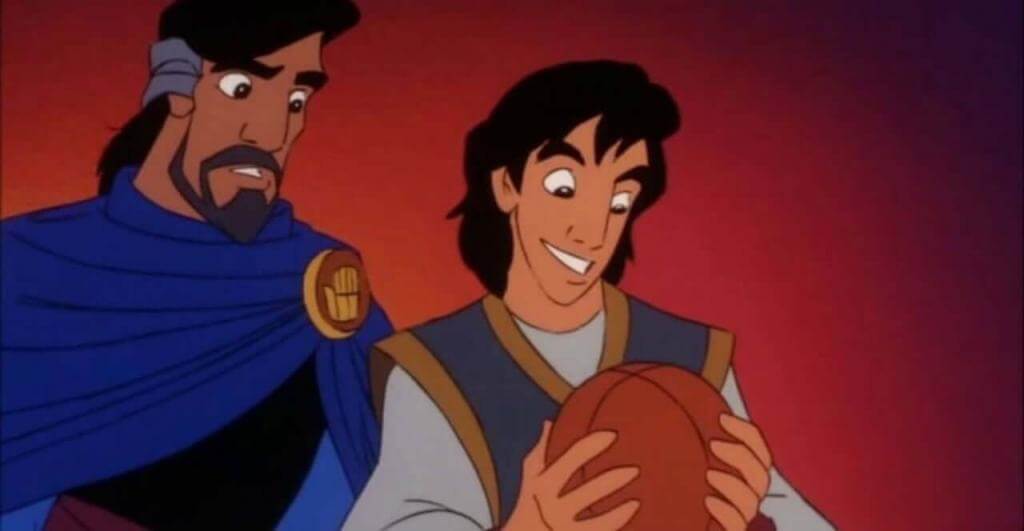 Honestly, I'm not really interested in this, although it is a relief that it won't be based on one or both of the original film's cheapquels. They're already cannibalizing the 1992 classic and last year's abomination. As such, it has to be noted that they're not willing to stoop so low as to take inspiration from Aladdin and the King of Thieves or The Return of Jafar. Some have commented that the wave of live-action remakes at Disney is just like a newer, more lucrative version of their direct-to-video sequels. That line of inexpensive, low-effort continuations of Disney classics (and sometimes even their less popular entries) came out of the DisneyToon studio and lasted nearly 20 years. I think the comparison between that and the live-action retellings – which started with 2010's Alice in Wonderland – is fair, to an extent. Some of the remakes are copies of the originals with little alteration, and what is there is often stupid and offers nothing substantial to the characters and story. Aladdin is definitely among this category, along with other smashing successes like The Lion King (2019) and Beauty and the Beast (2017). Then you have some which are arguably better than the originals, like The Jungle Book (2016) and Pete's Dragon (2016). Cinderella (2015) and Dumbo (2019) are among my personal favorites, offering something new and exciting while remaining true to the spirit of their originals. We can debate the merits and failings of the Alice and Maleficent live-action film series; I personally consider them guilty pleasures, and they differentiate themselves enough to justify existing. I find it interesting that, for the most part, the remakes I enjoy more, and maybe even love, tend to be overshadowed by those which are totally creatively bankrupt. Aladdin and The Lion King make bank while Dumbo flops and sinks into oblivion. Regardless, making sequels to these remakes is not a new idea. However, I think it's a bad one in this particular case. Massoud and Scott won me over with their charming performances, although the writing supporting them did not. I don't see the need to continue this particular story, much like the original animated film didn't need crappy, tacked-on, shoestring-budget sequels.
Is this Aladdin sequel a whole new world for you, or should it jump off the balcony? Let us know in the comments and stick around for more Disney news and reviews!