According to a Slashfilm exclusive, Battlestar Galactica alum Katee Sackhoff has been cast in The Mandalorian season 2. Sackhoff will reprise her role of Bo-Katan Kryze in her third Star Wars series appearance after The Clone Wars and Rebels.
Virginia: I really like the character of Bo-Katan, and she has a very unique personality and outlook among the Star Wars canon. I've been somewhat wary of the casting news of late, but I'm actually very excited about this. They got the OG actress back, and it makes a lot of sense to show her in The Mandalorian, especially as we last saw Moff Gideon wielding the Darksaber. What do you think of this, Brett?
Brett: I'm very pleasantly surprised. I didn't think Lucasfilm would let actors from the animated shows transition to live-action along with their characters. The obvious exception would be Favreau in the form of Paz Vizla, a descendant of his Clone Wars character Pre Vizla. Regardless, it's great that this is coming to fruition. Ever since Battlestar ended, she's been a great ambassador for genre TV, frequently recurring on The Flash following a series regular role on Longmire. Up until a few years ago, I hadn't realized Sackhoff was the one who voiced the character and never dared to dream that we would see her in live-action. In addition, this casting also gives us insight into where Dave Filoni's head is at. On Collider Jedi Council, Ken Napzok would always half-jokingly refer to Star Wars Rebels as Filoni's Clone Wars reclamation project. We also have the news of Rosario Dawson coming on as Ashoka, Rex potentially being in the mix, and the Darksaber. It feels as though Filoni is now trying to take his ideas to their next evolution rather than merely trying to realize a few unfinished ideas, Sackhoff's Bo-Katan being next on the list, so to speak. I can't wait to see what Sackhoff brings to the role here and how it compares to her animated counterpart.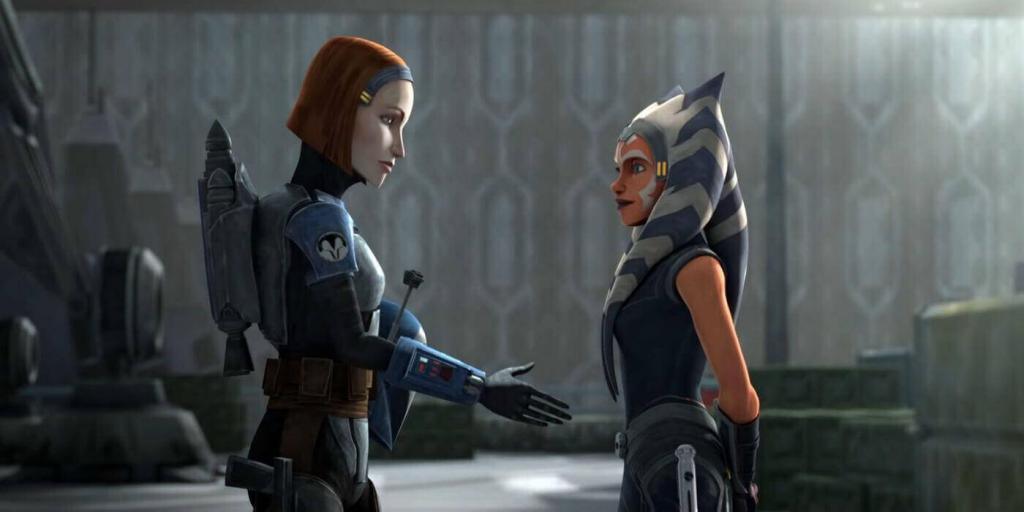 V: That's funny about Rebels, and it's kind of true. While Rebels introduces us to its own characters and storylines, it also serves as a legacy to the then-canceled Clone Wars, following up on characters and subplots that had been left open. I appreciate the way the Star Wars TV shows weave together, as well as tying into the stories of the films. The Mandalorian was already something of an exploration of the New Republic Mandalorian society and seeing how it differs from the pre-Empire Mandalore. While I had my misgivings about Ahsoka and Boba Fett (although I, of course, hope for greatness), I have full confidence in Filoni and Favreau. Bringing Bo-Katan back in makes complete sense. Will she be in a flashback showing how Moff Gideon got the Darksaber from her? Will she still be alive and on a quest to reclaim it and redeem her people? Will we find out exactly what happened with Gideon on Mandalore? Why don't they take off their helmets anymore? Will Bo-Katan take off her helmet? I'm so excited. Hopefully, we can see Ahsoka interact with Bo-Katan, playing off of their goodbye in The Clone Wars Season 7.
B: You bring up a great point about how the shows weave together. I think that's one of the bonuses to having somebody like Filoni at the helm, almost being analogous to Kevin Feige and the Marvel Cinematic Universe by now. I think it would be really cool to have Bo-Katan and Gideon squaring off throughout the season. I'd be lying if I said I wasn't excited to see Katee Sackhoff and Giancarlo Esposito together on screen, so hopefully, we'll get to see them together throughout the season. It's also going to be pretty cool for Once Upon A Time fans, as we'll get a glimpse of Mr. Glass and an almost Emma Swan (Sackhoff had auditioned for the role) on screen together.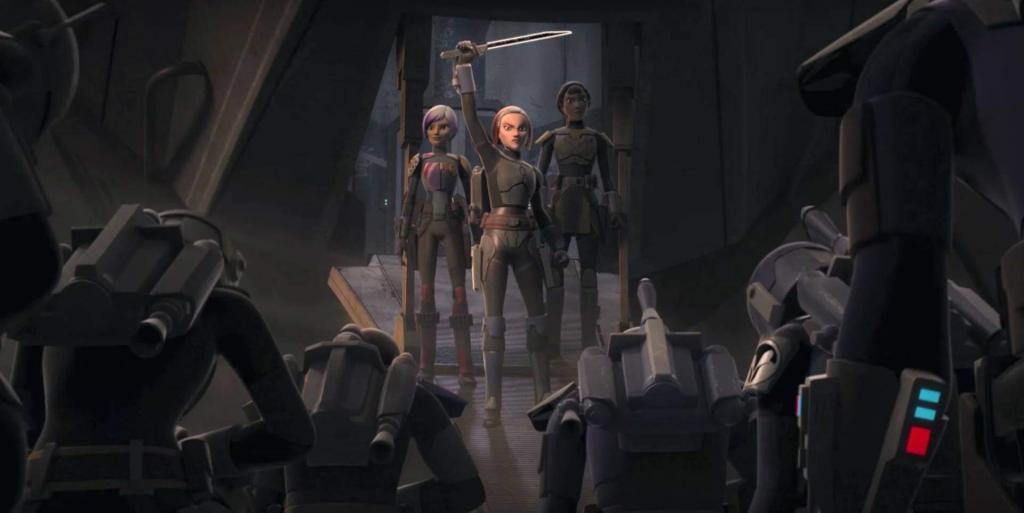 V: I honestly wish they would give Filoni and Favreau creative control at Lucasfilm. Dave Filoni has the résumé by himself, and those two have been responsible for the most popular/successful Star Wars properties since Return of the Jedi. Regardless of that, I anticipate seeing what they do with these legacy characters.
B: Me too! I just hope they hold a few casting surprises back. Part of the joy in Star Wars, and really any big IP these days, is the mystery of it.
Are you excited to see Katee Sackhoff reprise her role of Bo-Katan in The Mandalorian, or have you had enough Clone Wars callbacks? Let us know in the comments and stay tuned to Geeks + Gamers for more movie and TV news!