It's no secret that I have my issues with Rian Johnson's take on the Skywalker saga in The Last Jedi. But this does not mean that I have issues with Johnson as a filmmaker. His original movies Brick, The Brothers Bloom, and Looper, were each something special, and he brought a unique vision to all of them. So, when I heard he was returning to the mystery genre, I was intrigued. For the most part, the trailer for Knives Out only increased my excitement for the film. My only question was whether this would be another divisive entry in Johnson's filmography.
Knives Out opens with the discovery of the body of novelist Harlan Thrombey (Christopher Plummer). The film then cuts to one week later, when cops Trooper Wagner (Noah Segan) and Lieutenant Elliot (LaKeith Stanfield) are interviewing the family, with private detective Benoit Blanc (Daniel Craig) – unaware of who hired him – observing in the background. While he proclaims himself to be ornamental at best, it doesn't take long for Blanc to begin his own line of questioning, which eventually leads him to Marta (Ana de Armas), the Thrombey's caretaker. Blanc asks that she accompany him on his investigation, something that gives her pause for reasons the film makes clear. Blanc seemingly fumbles his way through the plot as he tries to untangle the web in front of him while the Thrombey family unravels around him. It seems Harlan Thrombey served as the glue that marginally kept the family together, even if it was only due to myopia and greed – thus making the viewer question if any of his family ever truly loved him, or if it was just his bank that drew out their affection. Threaded through the narrative is Chris Evans' Hugh Ransom Drysdale, the black sheep grandson who tries to help Marta throughout the film, often manipulating her confusion and fear to suit his monetary needs.
There are always certain elements the viewer should expect from a murder mystery film: the detective who seemingly knows all; a panorama of suspects; backstabbing; the list goes on. Much like Martin Scorsese's The Irishman, Knives Out embraces the tropes of its genre and, while doing so, gives the viewer an experience that has become all too rare in the cinematic landscape. The audience is treated to an old-fashioned movie hero in Craig's Benoit Blanc as the answers fall into place. There's just the right amount of subversion laced through the movie for me, as I wondered how this rather offbeat cat-and-mouse game would unfurl. This is something for which  Rian Johnson has become notorious, but it absolutely works here. At times, I became worried about how the mystery was playing out, but by the end of the film, my fears were allayed. I loved seeing the strange duo of Marta and Blanc go about solving the case, and a lot of that has to do with the great cast Johnson has assembled. Daniel Craig was a great choice for the lead role. I've grown accustomed to him as James Bond and seen him in a plethora of other films, such as Logan Lucky and Layer Cake. I was excited to see what his collaboration with Johnson would look like, and I'm impressed with what they present here.
While the rest of the Knives Out cast is fantastic, there are a few who deserve major kudos: Ana de Armas, Chris Evans, Christopher Plummer, and, surprisingly, LaKeith Stanfield. Having followed de Armas since Blade Runner 2049, I had been wondering when Hollywood would take more notice of her talent, so I'm quite pleased that Johnson has put her front and center in this film, raising her profile even more in the industry. As for Evans, I'd expect nothing less from the Captain America actor. Prior to his run as the Marvel icon, he did great work as a solid character actor, whether it was in Fantastic Four or The Losers. Hopefully, this role will remind people that he is far more than just a superhero. This brings us to LaKeith Stanfield. I've been a fan of Stanfield's ever since he played L in Death Note, where I was surprised by how he was able to make the role his own. When he first popped up on screen in Knives Out, I didn't expect much from him, incorrectly assuming that this film would simply be the Daniel Craig show. Once again, Stanfield rose to the occasion and served as an excellent foil for Craig throughout the movie, to the point where I really hope Johnson can find a way to incorporate Elliot into sequels, should that opportunity arise. The final word on the cast must go to Christopher Plummer and Frank Oz. Much like his controversial part in All the Money in the World, Plummer's is a small but pivotal role. Despite his family's acrimony, Plummer ensures that we know his actions are coming from a place of love, even if his family can't see it that way. I haven't seen Oz do much outside of Star Wars, and he acquits himself well here.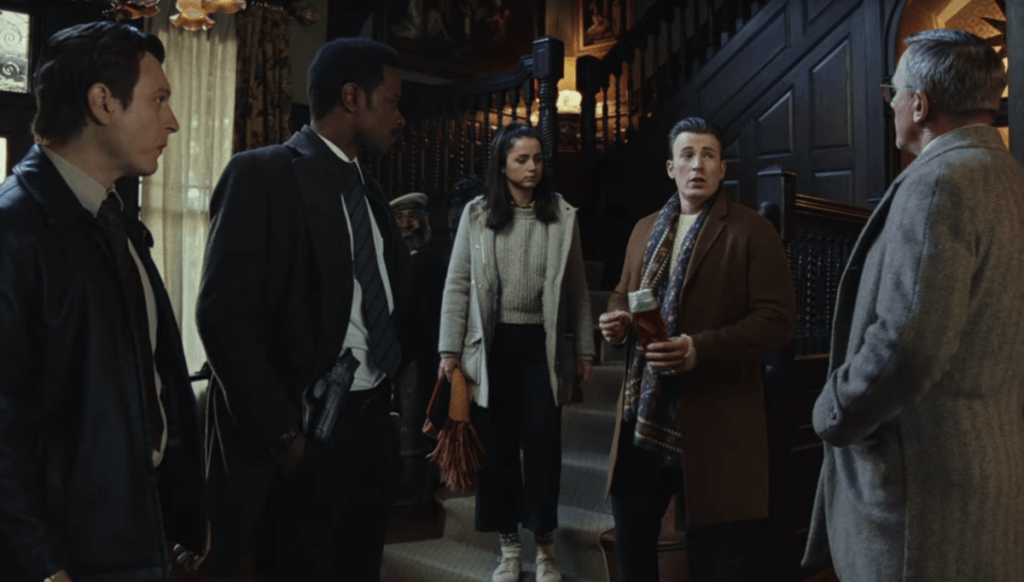 All of this is a credit to writer/director Rian Johnson. When Knives Out was first announced, Johnson said that he had written the script over the summer, having wanted to do an homage to Agatha Christie for years. That influence permeates the film occasionally, bringing to mind Kenneth Branagh's Christie recent adaptation Murder on the Orient Express. In addition to this, frequent Johnson collaborator Steve Yedlin once again uses his cinematography to help bring out the best in Johnson's work.
Overall, Knives Out is a great entry in Rian Johnson's filmography and a reminder that he is far more than his work in a galaxy far, far away. With great writing, excellent performances from Daniel Craig and Ana de Armas, and an excellent team behind the scenes, this film will definitely be an Oscar contender this year. Here's hoping Johnson continues bringing us quirky, inventive material like this in the future.