Since the 1930s, the gangster has permeated cinema and given birth to some of the defining characters of the medium over the years, inspiring debate from fans and critics alike (including this reviewer's thesis). From Edward G. Robinson's Caesar Enrico Bandello in 1931's Little Caesar to Marlon Brando and Robert De Niro's Don Vito Corleone in The Godfather and The Godfather: Part II, and even Joe Pesci's Tommy DeVito in Goodfellas, these characters have brought something unique to the screen and given viewers new perspectives on the gangster archetypes in every generation. So when Netflix bought the long-in-development The Irishman, I was glad to see that not only was the project moving forward but we would be getting another great performance from Pesci, who's last high profile appearance on film (excluding two other small roles in 2010 and 2015) had been in De Niro's The Good Shepherd in 2006. I couldn't wait to see what director Martin Scorsese would bring us in this seemingly final salvo of one of Hollywood's most celebrated genres.
The Irishman opens with De Niro's Frank Sheeran describing his past as he remembers a road trip he took with Pesci's Russell Bufalino, who intends to "take care of some business along the way." The movie continues to go back and forth in time as we see how Bufalino and Sheeran met, and how Sheeran began to "paint houses" after getting fired for stealing from his trucking company, a situation which is resolved thanks to Bufalino's cousin Bill, who is played with aplomb by Ray Romano. Threaded through this narrative is Sheehan's growing relationship with infamous Teamsters union president Jimmy Hoffa, played by Al Pacino, for whom – thanks to an introduction by Russell – he begins to work and through whom he, ultimately, becomes president of the local union. Through Sheeran's ongoing narration and Al Pacino's fantastic performance, we get to know the legendary ice-cream-and-chili-dog-loving Teamster and his dislike of the Kennedys (as well as his propensity for racial slurs) in the years up to his mysterious death, for which Sheeran has always claimed responsibility.
At its core, The Irishman feels as though it's a culmination of the postmodern era of the gangster film canon that began with The Godfather. Since then, these films have ultimately depicted their characters as tragic figures lamenting their past and trying to seek redemption for their heinous actions. With this film being considered the "end of the genre" by many critics (one can argue whether this is truly the case), it seems fitting that the three actors who helped define the gangster archetype for the last 47 years have come back to put in one final word on the subject, this time anchoring the narrative on the very real disappearance of Jimmy Hoffa. However, this is where the film falters ever so slightly, as it perhaps a little too often embraces the tenets of the gangster film, becoming predictable. Sheeran seeks forgiveness, but he can't escape the legacy of violence he's wrought, leaving the people around him either dead or with lifelong scars. As many characters are wont to say to one another throughout the film, it is what it is. Much like Michael Corleone before him, he can't seek absolution for his past sins, and with this movie being based on real events, Scorsese must find a different fate for his lead rather than that of his fictional forerunner.
Despite a clichéd plot, I was glad to see the actors more than rise to the occasion. Great performances seem little more than a given when one considers the auspices behind The Irishman. Yet, in the wake of the disservice done to De Niro and Pacino in Joker and Once Upon a Time… in Hollywood, respectably, I was curious to see what they would do with better material. I'm pleased to say that neither of them disappoints, particularly Pacino, who is in top form as the legendary Teamster boss Jimmy Hoffa. Their scenes together are electric and will no doubt make the viewer want to watch their past screen appearances together. Seeing Pesci back in his wiseguy element was fantastic, his cinematic return well worth the wait. Being a massive fan of his since Home Alone and having gone back through his filmography (including A Bronx Tale, where he had an all-too-short cameo), I can only hope he does more acting in the future. Other performances of note are Bobby Cannavale as Felix "Skinny Razor" DiTullio and Domenick Lombardozzi as Anthony "Fat Tony" Salerno. Neither are on screen long, but in the hands of a master like Scorsese, they not only leave a lasting impression but give added weight to the proceedings given their work on Boardwalk Empire (in which Scorsese was involved) and Carlito's Way: Rise to Power, respectively.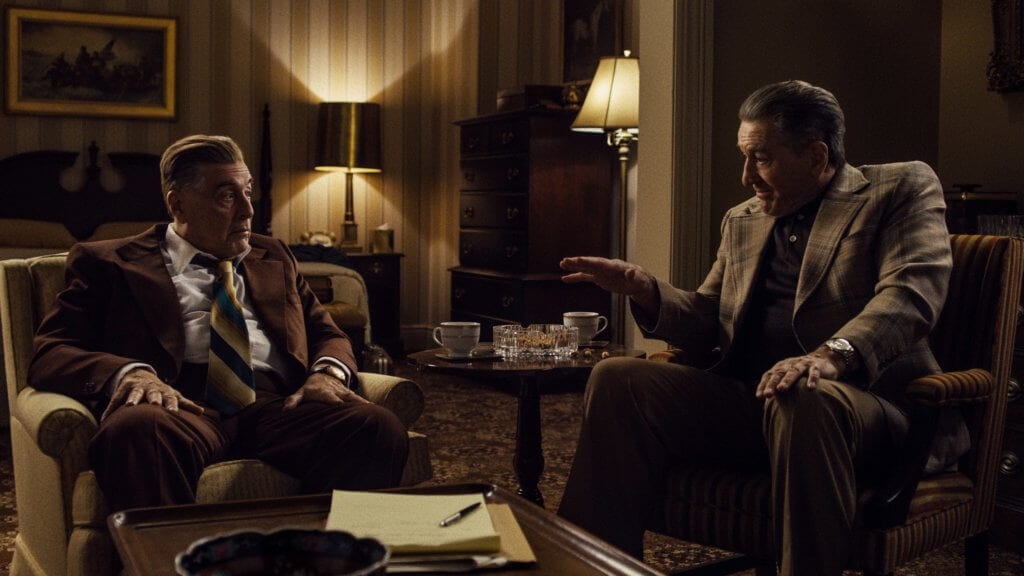 All of these performances would never have the gravitas they do were it not for the superlative script by screenwriting veteran Steve Zaillian. While the story may be a bit clichéd at times, having Zaillian's words to work with ensures that the best is brought to the fore and allows everyone else, including director Martin Scorsese, to shine. Scorsese had been developing The Irishman for years, so there were certainly going to be a lot of expectations around this film. Overall, the director delivers on this anticipation in a way that is far more impactful than his previous film, Silence, perhaps because of Scorsese's history with the genre. As always with Scorsese, the violence is brutal and sudden, but he never lingers for too long on the moment, always careful to ensure we never lose the focus on the characters amid all the death. The legendary filmmaker treats The Irishman as a grand tour of the genre, imbuing the film with references to his previous movies like Casino and Goodfellas, but also with obligatory references to Francis Ford Coppola's Godfather series. It's also worth noting that, despite all the controversy surrounding the de-aging process, it's barely noticeable to me. Visual effects supervisor Pablo Helman and Industrial Light and Magic did a fantastic job, and this serves as a great reminder of how far the technology has come since 2010's Tron: Legacy.
If The Irishman is the last word these icons have on the genre, then this is a final salvo of which they should be proud. Despite the sometimes clichéd plot, Steve Zaillian gives the words the polish and resonance of a seasoned professional, allowing Martin Scorsese to direct his actors to career-best performances, particularly Al Pacino, as he serves up a summation of the genre he has helped define for the last several decades. The characters may have left a legacy of fear and violence, but the artists who created them have left a legacy that will bring joy to cinephiles everywhere for many generations.