Welcome back to You Should Be Watching, where unloved or forgotten movies and TV series get their moment in the spotlight. Starting this week and on through the next month and a half, we'll be focusing solely on Christmas movies. To kick off the holiday movie season, I've chosen a relatively recent release, Aardman's festive adventure Arthur Christmas.  I love Christmas as much as I love Halloween, and one of the best parts of any holiday is getting into the spirit with decorations, food, and, of course, holiday-themed media. Christmas movies are some of my favorites because of the feeling a good one can give you: that people are good deep down, and Christmas is a time when they come out and show it. Christmas movies are the ultimate feel-good movies, and they work (the good ones, at least) because the emotion is genuine on the part of both the creators and their audience. Without further ado, let's get festive!
Arthur Christmas is a very modern Santa story with lots of heart and humor. In this world, Santa isn't one everlasting being, but rather a lineage that passes the title and job from father to son. This is the current Santa's 70th year, and as such, his eldest son Steve is jockeying for his position. The eponymous Arthur isn't at all interested in competing with Steve; he just idolizes their father and wants Christmas to be perfect for every child. After Santa's trip around the world is finished and he's back home, it's discovered that a child was missed and her gift is still in the workshop. Grandsanta, the current Santa's father and Arthur's grandfather, offers to help Arthur get it delivered when Steve won't help or wake Santa. However, even Grandsanta has an ulterior motive. It's a race to get the last gift delivered before dawn and a battle over who really is best for the role of Santa Claus.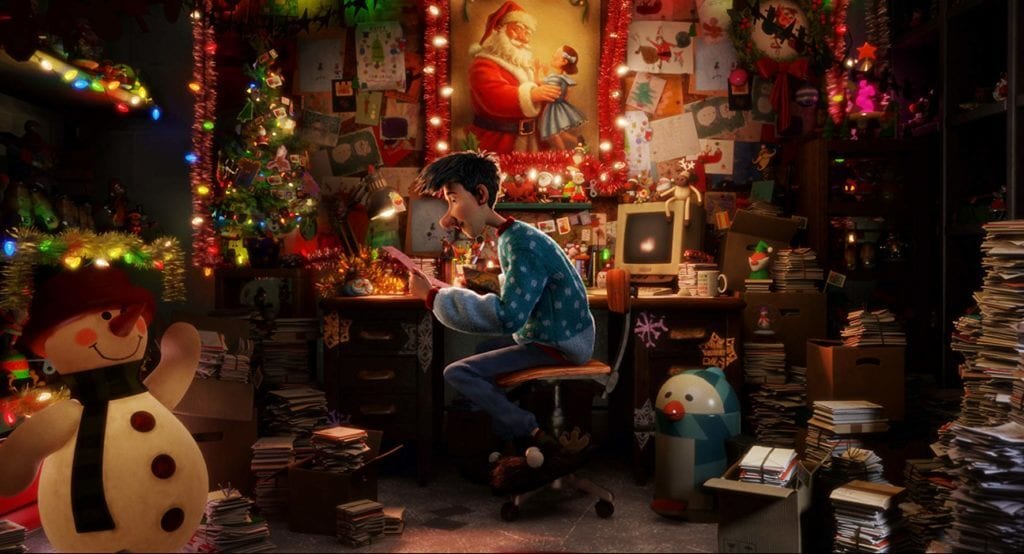 At least based on the other movies I've seen featuring Santa Claus, this is a pretty interesting and original approach to the jolly old elf and leads to hilarity throughout the film, and a fair bit of charm. A lot of what makes Arthur Christmas work is the sense of childlike wonder with which Arthur sees the world, as well as the tremendous voice cast. Arthur is voiced by James McAvoy, who is pretty much great in everything he's in. He does a great job here of expressing that Arthur is not childish, but rather childlike. Steve underestimates Arthur because, rather than being efficient and detached, Arthur is excitable and full of Christmas spirit, going as far as to answer letters to Santa for him. Steve is portrayed by Hugh Laurie of House and Tomorrowland fame. This role is perfect for Laurie, as he gets plenty of chances to be a smartass to Santa, Arthur and Grandsanta. Steve tries to remain calm as things get out of hand, but he has a temper any time he feels challenged, especially when it comes to his potential succession to Santa Claus.
If you like Harry Potter, Arthur Christmas features several alumni of the beloved franchise in major roles. This seems unavoidable in any British movie at this point, but it's awesome nonetheless. Imelda Staunton (Dolores Umbridge in the Harry Potter film series) brings warmth to Mrs. Claus, and she's the only family member who isn't a little bit nutty. She grounds Mr. Claus and encourages Arthur more so than the other family members. Santa Claus is voiced by Jim Broadbent (Professor Slughorn in the Potter film movies), and he's well-meaning, but something of a bumbling old man who sometimes forgets what's important. I think he's still plenty likable, though, and I love Broadbent as an actor. He has a very distinct, charismatic voice. Anyone who's been in the workforce for 70 years would probably experience similar lapses in judgment/memory. Grandsanta is hilariously brought to life by Bill Nighy (Minister of Magic Rufus Scrimgeour in Harry Potter, Davy Jones in the Pirates of the Caribbean films ). At first, Grandsanta seems sympathetic to Arthur's goal of making sure every child gets a present, but his real reason for agreeing to help him is less than admirable. Michael Palin, Robbie Coltrane, Joan Cusack and more offer their voices to supporting characters.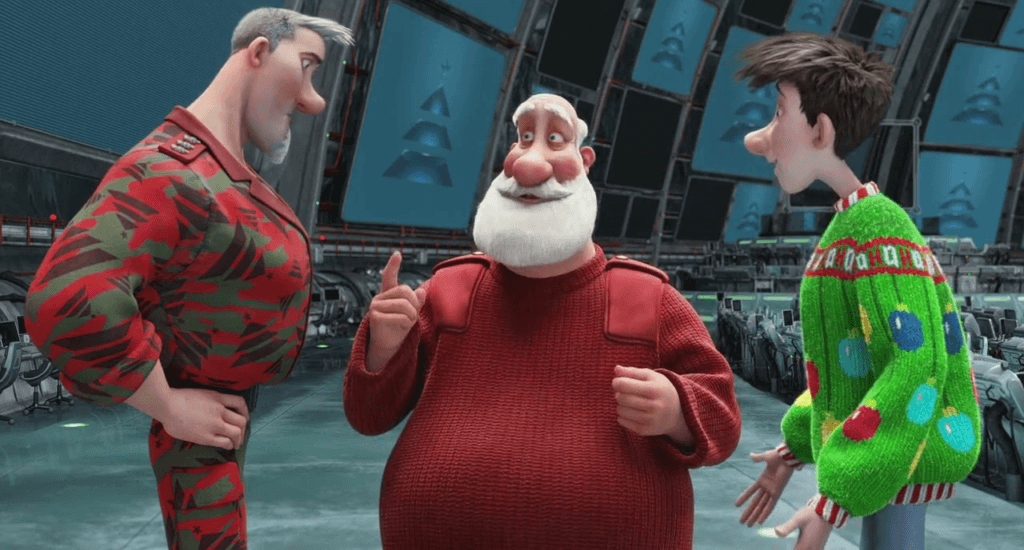 The character designs in Arthur Christmas are very unique. They're distinct from any other animated film I've seen, but pleasant enough for the subject matter. Even in looks, Mrs. Claus is the least outlandish, as the male family members have huge, bulbous noses. The characters have a pleasant roundness to their designs, particularly the faces, that suits the tone of the film perfectly. The textures all look great, ranging from neon signs to clothing, hair, skin and metal. The score provided by Harry Gregson-Williams is exciting and imbued with holiday spirit. The mood of this film is perfect for Christmas, alternating between tender and laugh-out-loud funny. To me, it feels like a successor to the old Rankin/Bass Christmas cartoons; it's a different kind of movie in that it has more humor and is set in modern times, but I get that same feeling I had as a kid from the older specials. I don't know Aardman as well as some other animation studios working right now; I still haven't seen Chicken Run or Flushed Away (the latter of which doesn't interest me at all, to be honest). However, I appreciate that there are studios out there making less conventional movies for a mixed audience. Without studios like Laika and Aardman, I wonder if Disney and Pixar would be as inclined to push boundaries with their animated films.
Arthur Christmas is a treat and the perfect one to kick off the holiday season. This is probably not a movie that'll change your life, but it is a modern Christmas movie with a timeless disposition. I'm a sucker for Sants movies, and this one genuinely has a clever concept of how Santa works. Arthur Christmas is a smart, heart-warming and quirky film the whole family can watch together to get into the Christmas spirit. The brilliant voice cast, hilarious dialogue and childlike wonderment of Christmas are why you should be watching Arthur Christmas.
I wasn't able to find Arthur Christmas for free on Netflix or Amazon Prime. However, if you have access to Starz, you can watch it there, or on Hulu. I stumbled upon it by chance on demand.