The Scooby-Doo direct-to-home-media line (which was initiated with 1998's Scooby-Doo on Zombie Island) has taken an interesting turn this year, with the last two films harkening back to well-loved eras of the franchise's past, most likely due to this year being Scooby-Doo's 50th Anniversary. Whereas Scooby-Doo and the Curse of the 13th Ghost wrapped up a perennial cliffhanger in the franchise (with varying degrees of success), Scooby-Doo: Return to Zombie Island is another matter entirely. I loved this film's progenitor growing up, with it being one of the first movies that introduced me to Cartoon Network's Cartoon Theatre. As a result, I got the film on VHS and would watch it all the time, much to the chagrin of my parents. Yet due to the Cartoon Theatre experience, it always felt like more of an event than any iteration before it, something that was compounded by the fact that the film was the first in the direct-to-home-media line that revitalized the franchise. As a result of this, when I first heard that Scooby-Doo: Return to Zombie Island was in the works, it intrigued me despite a fleeting concern that the line was having trouble coming up with something fresh. My worries were not too far off the mark.
Scooby-Doo: Return to Zombie Island begins in a fashion not too dissimilar from its predecessor (save for the locale), as Fred and the gang are taking down the latest monster. As we get a montage of a variety of adventures – one of which reminded me of early Scooby-Doo episodes – we quickly realize that this is all in Fred's head as we pick up with our heroes while they adjust to the new status quo established in the previous film as they have to live without both the Mystery Machine and solving mysteries, something with which everyone save for Shaggy and Scooby are having trouble coming to terms. Threaded through our heroes' new reality is the mystery of Moonstar Hotel (a suspiciously familiar name), to which the gang is invited thanks to Shaggy's ironic fandom of cheesy monster movies. They spend the majority of the film trying not to solve the mystery and ignoring the similarities with the previous Zombie Island adventure, a feat that becomes harder and harder the more strange things happen over the course of their trip, as everyone tries to figure out what it means to be normal kids. Scooby-Doo: Return to Zombie Island culminates in Mystery Inc. accepting the fact that mystery solving is in their blood as they endeavor to uncover the reason why the island is once again a focal point of strange occurrences amid an attempt by a film director to capitalize on one of the gang's "unsolved cases." Unfortunately, this is where the movie falls flat.
That's not to say that there isn't a lot that works here. As I stated before, the last couple of films have served as deconstructions of what we've come to expect from a Scooby-Doo adventure. Scooby-Doo: Return to Zombie Island continues that trend and allows us to focus on our characters, much in the same way Scooby-Doo and the Curse of the 13th Ghost and, poetically, the original Zombie Island adventure, did. Everyone has to figure out who they are without the Mystery Machine, the difference here being that this time the absence is both metaphorical and physical, and the loss of their beloved transportation evokes almost a Han Solo/Millennium Falcon connection. As the film goes along,  we see how much mysteries matter to these characters and how that is what binds them together, something that is initially very difficult for them to reconcile. That's hammered home even more by the fact that this is another case with which they have a personal history, thus making their ongoing denial of the supernatural happenings all the more intriguing. Yes, at times it's frustrating to watch, but in the context of the film, it makes a lot of sense and enriches the overall experience, especially when Scooby-Doo: Return to Zombie Island rewards longtime fans by referring to a personal favorite of mine. (There's even an ongoing in-joke for people familiar with certain aspects of the film industry, but I won't spoil it here.)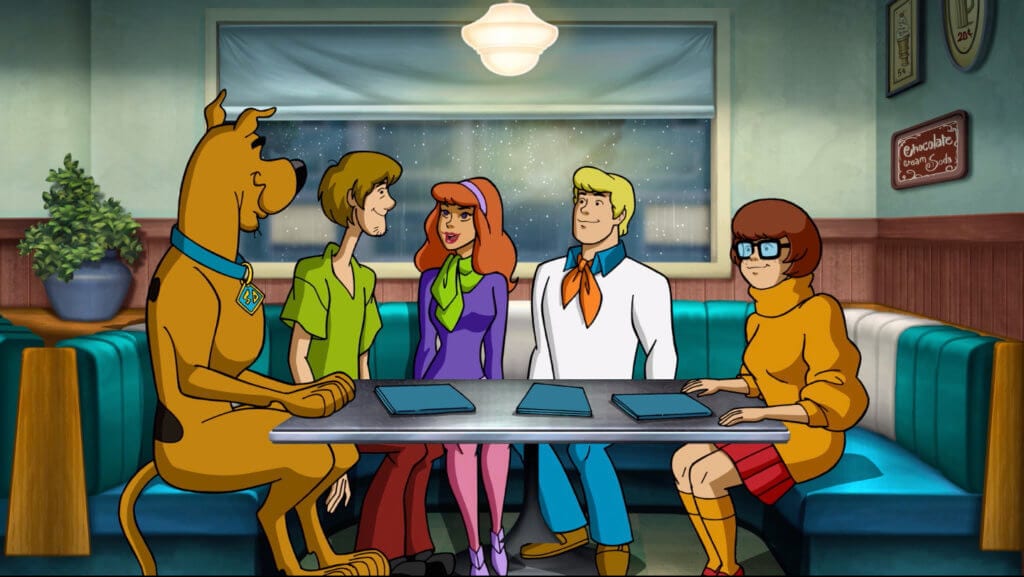 Despite these qualities, it's hard to deny that they are some serious inconsistencies related to the 1998 film. I understand why Scooby-Doo on Zombie Island was chosen as a conduit for telling this particular story, but all too often Return to Zombie Island appears to invalidate the previous installment and essentially retcon the case. While that is ultimately unsuccessful, it subsequently makes the film feel redundant, and you come away from the whole affair feeling hollow. I can't help but worry that this film will ultimately end up making people turn away from a classic Scooby-Doo adventure like zombie island. Writer Jeremy Adams (who also wrote LEGO Scooby-Doo and co-wrote the Supernatural crossover episode, "Scoobynatural," with Jim Krieg) does an exemplary job delineating the characters' new reality and shows us why Mystery Inc. works so well together and what solving mysteries means to them. For so many years, our heroes would literally drive in and out of these stories with little changing for them, so Warner Bros. Home Entertainment should be commended for trying to deepen the characters and connect the mythos, much in the same way the 2010 series Mystery Inc. did (that iteration serving as a reboot of the entire franchise). Unfortunately, Zombie Island was the wrong mystery to choose to further this new status quo. Making a sequel like this so many years later should only be attempted if it's going to enhance the original, but Scooby-Doo: Return to Zombie Island does the opposite, and the legacy of the 1998 film is used as little more than a shameless cash grab. This is so disappointing because the character work here is so well done. While Ethan Spaulding and Cecilia Aranovich Hamilton's direction is technically proficient, it does little to make up for the lackluster plot and, at times, only serves to remind longtime fans of how much better the previous installment was. Here's hoping the team will go back to creating more original content.
Despite some great character work, the plot of Scooby-Doo: Return to Zombie Island falls short and takes away from the previous installment. While a continuation of The 13 Ghosts of Scooby-Doo was necessary, this sequel to the seminal 1998 film is the opposite and only serves to take away from the brilliance of its progenitor. Here's hoping that, going forward, Mystery Inc. gets some new mysteries to solve.