Movie serials have a storied history in Hollywood. Besides serving as the inspiration for Star Wars and Indiana Jones, this format also gave us the first representations of comic book heroes on the screen, with Superman being portrayed by Kirk Alyn (who later appeared in a cameo role in Superman: The Movie, thus setting off a grand tradition in Superman adaptations where the previous actor shows up in the new iteration) and Batman by Lewis Wilson in the 1943 Batman serial. It is fitting, then, that, like these properties – particularly his DC counterparts – Shazam (or, as he had been known in his 1941 serial, Captain Marvel) shares that legacy. Going into the latest installment in the DC Films universe, all these thoughts swirled in my head, and I couldn't wait to see this iconic hero take his place on the big screen the same way his movie serial counterparts had in 1978 and 1989.
Much like its classic predecessor, Shazam! centers on Billy Batson, who encounters the wizard known as Shazam, and subsequently becomes endowed with all of his powers. At first blush, the 2019 film plays like your standard superhero origin story. Yet, the general audience has been around the block once or twice with this kind of tale, so I was very impressed with how director David Sandberg continues DC's recent tradition of subversion, but does so in extremely subtle ways that are not only comical but end up enhancing the overall experience and drive home what it means to be a superhero. Zachary Levi and Asher Angel are well cast as Shazam and Billy Batson, respectively  – particularly Levi, whose enthusiasm for the part radiates off the screen; I can't wait to see him continue playing Shazam. Asher also does a great job portraying the teenage angst that ultimately is a catalyst for what is our adolescent hero's ultimate desire: finding his family.
This is one of the many ways Shazam! departs from the traditional superhero narrative. Throughout the film, I was constantly reminded of the Fast and the Furious movies and their focus on family. While that may be a strange comparison to make, Fast and Furious veteran director Justin Lin often spoke of the created or chosen family trope and how that was one of the things that drew him to the project. The filmmakers seem to, perhaps unintentionally be emulating the car-racing series in that regard. By the doubling down on this theme, Shazam! rises above typical superhero fare to become something special.
The theme of family also extends to the villain. At times, this tends to fall into the archetypal two sides of the same coin trope; while we hate what he does, we have an uncomfortable understanding of the character and how he views family.  Mark Strong imbues the character with a potent mix of intelligence and psychosis, much in the way he did in his past villain portrayals. I loved him as Frank D'Amico in Kick-Ass and Lord Blackwood in Sherlock Holmes, but it was his portrayal of Sinestro that could have been the best of all had he been given better material. So when I heard he was cast as Dr. Sivana in Shazam!, I was intrigued, and glad Strong would get a chance to play another DC bad guy. While Strong is shoring up his legacy as a great movie villain, DC is reminding fans of the company's own screen legacy.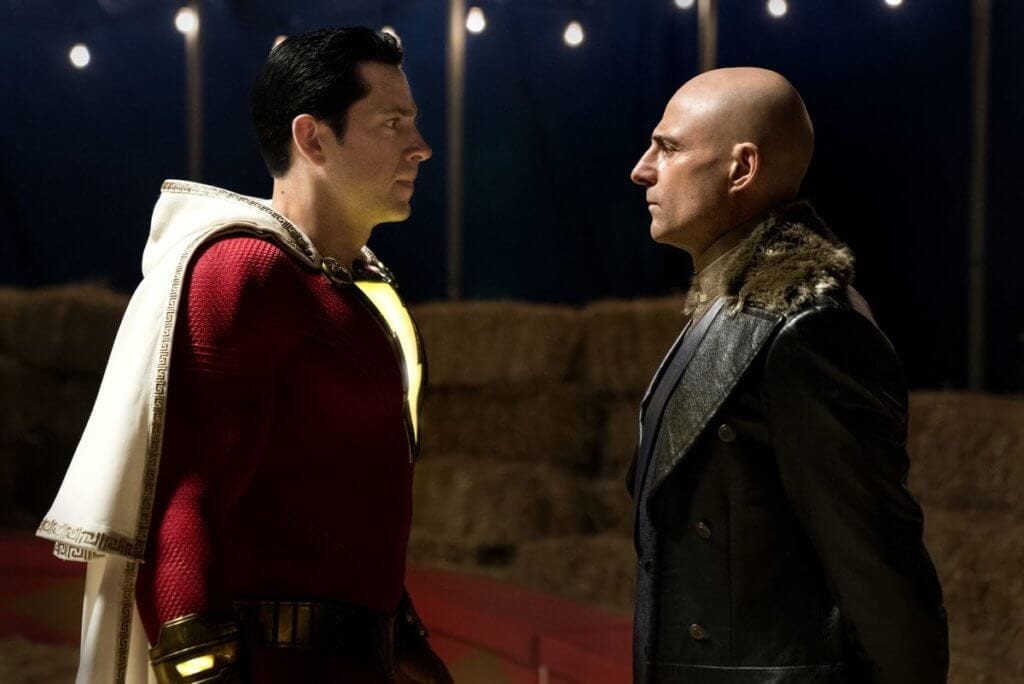 Over the course of the last several movies in the DCEU, the various filmmakers have honored the legacy of the 2000s Superman series Smallville. Shazam! is no exception, with what is probably the biggest homage yet, one that is sure to delight longtime fans. Throughout the latest DC film, there are additional nods to various DC productions that only the most deep-cut fan would notice. While this may not seem like a big deal at first blush, it just reinforces something that I've been observing about DC since the climax of Justice League: the powers that be have finally started to own their position on the cinema landscape rather than try to follow what Marvel is doing. When Geoff Johns took over, he claimed that DC would be adopting a new motto: hope and optimism. I was dubious about the prospect, particularly as much of the blame for Green Lantern was laid at his feet. However, after Aquaman and now Shazam!, Johns has succeeded in that missive (especially considering Johns was heavily involved in the early development of the movie), though I doubt he'll get as much credit as Walter Hamada. Thanks to Hamada's relationship with James Wan and David F. Sandberg, the latter of whom is largely responsible for the overall success Shazam! is about to become, including taking a risk with the narrative by allowing Freddie Freeman to be disabled.
It may seem a bit ironic, but having a disability myself, I wasn't exactly thrilled that they were going to have Freddie keep his disability. I'm not usually one for seeing myself on screen, and frankly, all too often a disabled character's entire arc is that they are a victim. I was pleasantly surprised to see that Freddie Freeman has a rich arc throughout Shazam! that is instantly relatable, regardless of whether or not you have a disability. Jack Dylan Grazer laces his portrayal with just the right amount of dark, self-deprecating humor and geeky awkwardness to rise above the typical performance you would usually get with this kind of character. After watching Grazer in Shazam!, I noticed some fellow disabled people exiting the theater, several of whom had the Lofstrand crutches. I had half a mind to ask them if they kept banging their elbows on the cuffs the same way I did back in the day, but quickly thought better of it. I understood, at least to a point, what some people on Twitter mean when they say representation matters. That being said, I was far more interested in the representation of magic on the screen than I was about the disabled. To me, this is where Shazam! falls a bit short. After watching the likes of Constantine in his various incarnations and Zatanna on Smallville, I really wanted to see a little more of the mystical side of the DCEU, and I hope we get to see more of this aspect of the DC Universe in future installments. Sandberg and writers Henry Gayden and Darren Lemke do a serviceable job of hinting at the mythology of the magic while also allowing Sandberg to embrace his horror roots; I just wish we were allowed to see some more DC, well, magic.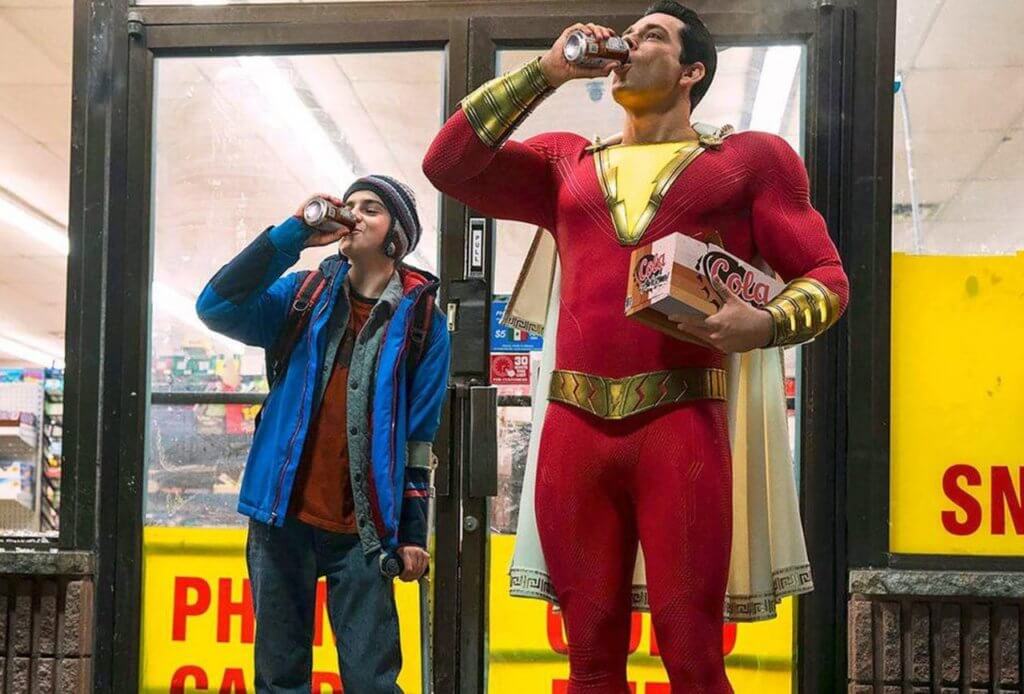 Despite this ultimately minor issue, the filmmakers did a great job with a special shout out to composer Michael Wallisch who created a score that is immediately recognizable as a superhero score, yet feels nothing like any of the others we've heard over the years. Here's hoping they retain some of these themes in the next film. Shazam! is a huge win for Warner Bros., bolstered by fantastic performances from Levi, Angel, Strong, and Grazer. What was once a 1940s serial is now a major motion picture that stands shoulder to shoulder with an incredible screen legacy. Despite not embracing the mystical side of the DCEU as much I had hoped they would, Sandberg and screenwriters Henry Gayden and Darren Lemke present the audience with a very simple idea: being a superhero is fun. In a genre that many feel has been played out, Shazam! reminds us that there is still magic to found in these movies; all we have to do is go along for the ride.