Scooby-Doo and the Reluctant Werewolf has always been a very special entry in the Scooby-Doo canon to me. Growing up, the movie consistently found itself in regular rotation on Cartoon Network's Cartoon Theatre every Saturday night, especially on Halloween. In the wake of the spookiest night of the year, I decided to take a look at what made this seemingly insignificant made-for-TV film and a member of the Hanna Barbera Superstars Syndication Package stand out in the franchise.
Scooby-Doo and the Reluctant Werewolf opens on Shaggy behind the wheel of a race car as Scooby, Scrappy (who makes his final appearance here until the live-action film 14 years later), and his girlfriend Googie cheer him on. After he wins, the movie quickly transitions to Transylvania, where a sunblock-wearing Dracula is looking for a new werewolf to compete in the monster race, since the previous one has decided to retire. Who is the perfect candidate? A race car driver by the name of Norville "Shaggy" Rodgers a new racer the Count initially looks at with disdain. However, unless he gets a new werewolf, the race will not proceed as planned, so he calls on the dreaded Hunch Bunch, Crunch and Brunch, to turn Shaggy into a werewolf and bring him to the castle. Amid some hijinks and hiccups (literally), they succeed, and Shaggy and the gang must win the race if Shaggy wants to become human once again. Throughout the race, Dracula goes out of his way to try to get Shaggy to lose so that he can retain Shaggy in the future races, often attempting to sabotage the gang as they try to help our Scooby-snack-loving heroes as they try to ensure victory.
Even all these years later, there's a lot I love about Scooby-Doo and the Reluctant Werewolf, but let's get the one nitpick out of the way: Shaggy the race car driver. I understand this was a change that needed to be made, but it seems little more than a plot contrivance that is never followed up on, much like Fred's cheerleading camp arc is Scooby-Doo and the Curse of the 13th Ghost. However, this is something I can easily forgive thanks to the hours of entertainment this film gave me over the years. When I first saw it as a small human, there was a lot about which I was curious. This was the first time aside from Scooby-Doo and the Ghoul School where I got to see Shaggy front and center, and I wondered whether history would repeat itself and Shaggy would ascend to accidental hero status (though I'm sure I wasn't thinking about it in those terms at the time). For this to work, the powers that be had to make sure the characters would be able to bring something fresh to the proceedings. By and large, the film succeeds in that mandate and has permeated the franchise ever since.
As always, however, it starts with the performances, which are exemplary, with Don Messick and Casey Kasem carrying the film. When I first started watching Scooby-Doo and the Reluctant Werewolf, it had been one of several TV movies that didn't include Fred, Daphne, and Velma (there was even a moment where I thought it would have been a great opportunity for the latter's signature phase, only for Googie to replace it with something clichéd). As I said in last year's Halloween pick's, it was nice to see our hero running – or, rather, racing towards something rather than away from it. Yes, he lived up to the word "reluctant" on more than one occasion, but this one was the first time where I saw that Shaggy would pull through without having to be used as some sort of bait for one of Fred's plans. Furthermore, by stripping away the mystery element and treating the idea of monsters as real and thus posing a threat (relatively speaking), we get a storyline that truly puts Shaggy in the driver's seat, giving him an agency in the story that, until this point, had been absent for the character; this was also seen in several other entries at the time. Scooby-Doo and the Reluctant Werewolf even influenced the most recent entry in the direct-to-home-media line, Scooby-Doo: Return to Zombie Island, in the sense that Shaggy and Scooby were unafraid of movie monsters, something that serves as a great juxtaposition as we meet Dracula and the gang in The Reluctant Werewolf. It's great to see elements of this 1988 film still in play for the current era of Scooby-Doo.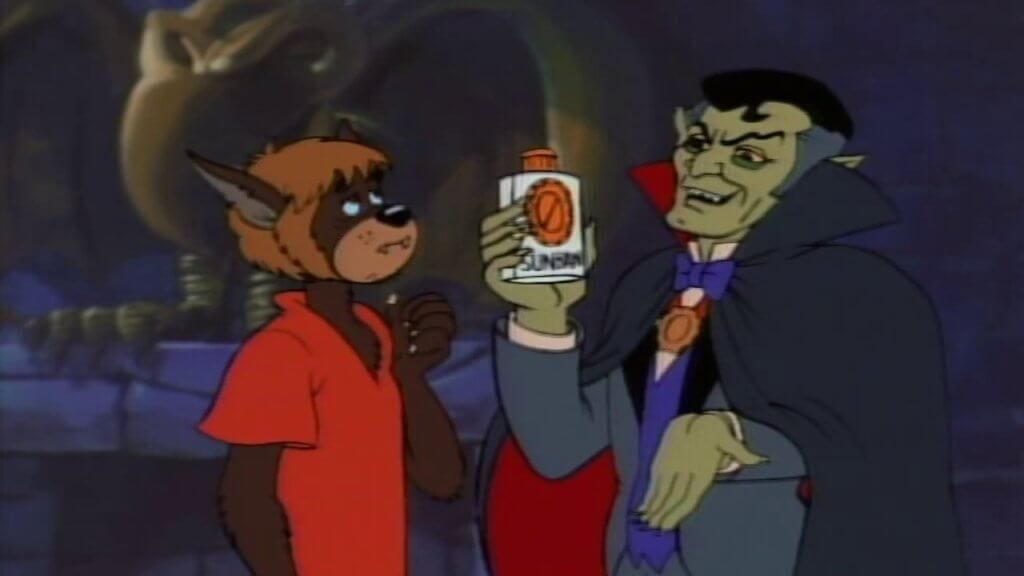 That's a testament to the great work of writer Jim Ryan and director Ray Patterson. It's fair to say that most audience members would associate made-for-TV movies with low quality. Yet, Ryan and Patterson didn't let that stop them, ensuring that this entry in the Superstars 10 syndication package bought the franchise a new perspective via Shaggy's latest plight. While it would have been very easy to reinvent the wheel in ways certain recent entries have, instead it is done here with subtlety, leaning into all the wacky and weird elements that the Scooby-Doo franchise has to offer. The animation may be a bit lackluster in places, but Patterson's direction gives Scooby-Doo and the Reluctant Werewolf a retro charm that still resonates upon rewatching the film.
Despite a small nitpick, Scooby-Doo and the Reluctant Werewolf transcends its TV-movie roots and stands out from the Superstars 10 syndication package thanks to a great script from Jim Ryan that enriches our beloved characters and puts Shaggy in the driver's seat in a way he'd never been before. The film serves as a great reminder that joy can come from the most unexpected places, even a race-car-driving werewolf and his Great Dane best friend.